1 / 9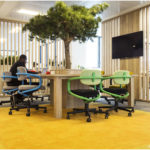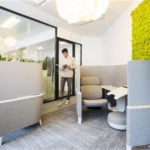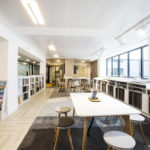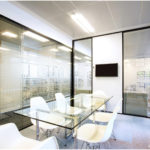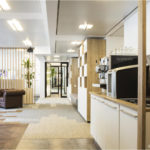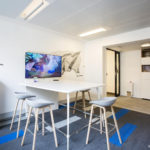 Health and wellbeing are fast becoming a top priority for today's workplace. For Interface, a global player in professional floor coverings, and producer of carbon-neutral flooring products, it was at the heart of their plans to create a modern and sustainable workplace for their 27 employees.
With ageing offices and showrooms, Interface realised there was a disparity between their industry reputation and the space they occupied. They asked Tétris to design and build an innovative new workspace using industry best practice that reflects their commitment to their people and the planet. Read more
How we achieved it
From the outset, the project centred on three main objectives: quality of life at work; 360° wellbeing; and WELL certification. Tétris approached the design and build of the Interface space in the prestigious OPUS building in Paris using the WELL Building Standard's seven concepts for healthier buildings: Air, Water, Nourishment, Light, Fitness, Comfort, and Mind.
As a living workspace, biophilic design and the 360° wellbeing concept feature prominently. A diverse range of formal and informal work areas support different work styles and business needs, while furniture is ergonomically designed and incorporates recycled materials. The 14 principles of biophilic design are integrated into the space, including natural light, green walls, and visual and sound stimuli as well as maintaining good air quality.
The layout facilitates movement through the working day, while integrated relaxation spaces, ergonomic workstations and noise-absorbent materials maximise employee comfort. Elsewhere, movable glazed partitions allow natural light to penetrate all areas of the office, while additional lighting at varying brightness enhances the ambience of the different spaces.
The results
The Interface office received the first WELL GOLD certification of its kind in the greater Paris area and lives up to the Interface ethos of Better products. Happier people. Healthier planet and commitment to Performance with Purpose.
The resulting office and showroom space meets Interface's environmental criterial while reflecting its values and enhancing the quality of life at work for employees. And Interface employees agree; almost 43 percent say their sense of wellbeing at work has increased, while 38 percent report a rise in productivity (according to an internal survey by Interface).