1 / 15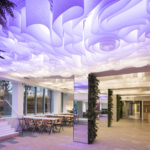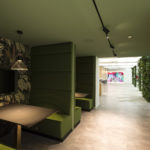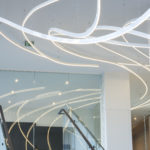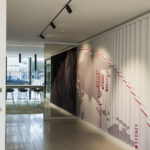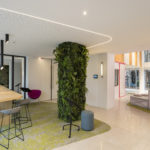 Following a design contest, Murex (a major publisher of IT solutions for the capital markets) entrusted us with the design and implementation of their new Parisian headquarters, which was going to host 1000 employees.
As part of a global rethinking of its work organization, Murex wanted to adapt its spaces to agile methods.
The project also had to express the plural identity of Murex, made up of 63 nationalities, but also the historical roots in the French capital as well as the foundations of the company: IT, finance and mathematics.
The design of the project is built in the intertwining of 3 threads:
Paris, where each floor represents a historical and stylistic layer of the city. Each floor is adorned with different materials.
The lower floors reflect the banks of the Seine, the parks and gardens. The rhythm of the Haussmannian facades can be read in the central floors. The slate and zinc of the Parisian roofs are invited in the high floors, while the last floors are tinted with oxidized copper and gold like the roof of the opera and the angel of the column.
Technology is an immaterial notion made visible by a resolutely contemporary aesthetic, transparent materials such as polycarbonate and a work of light that involves the production of unique luminous works.
The notion of surprise and intellectual stimulation represented by optical illusions and alignment games custom-made for Murex.
Everything in this project was designed hand in hand with the client and down to the smallest detail to reflect the unique culture of Murex.