1 / 12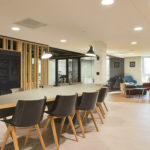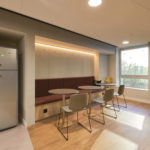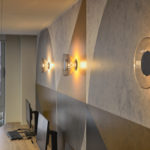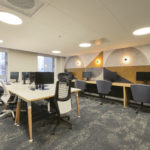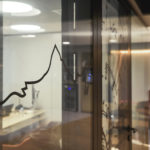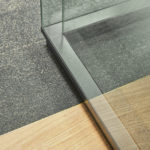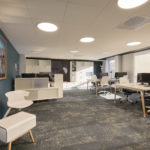 Tétris has created the new office of the accounting firm Agili 3F as a showcase located in the Croix-Rousse area of Lyon.
The personality of each of the partners, with whom our multidisciplinary team worked closely and through regular exchanges, resulted in a tailor-made project, thought out in detail, far from the usual codes of the service sector.
The renovation of the existing space, a V-shaped platform that is completely cleaned out, gave way to luminosity and a new spatial organisation focused on the central element of the project: the 16-metre long wall at the back of the platform. This wall is worked as a concrete volume that accommodates different functions, with arrangements useful for conviviality and collaboration (kitchen, bench, storage). Read more
The play of ceilings, between bare slab and monolithic false ceiling, the claustra of the entrance and the closed volumes, hierarchise the space and structure the circulation. A point of honour is given to the treatment of details: visible technical elements, choice of atmosphere and materials in line with the client's charter, glazing and personalised decorations, reminders of certain elements such as the brass in the floors, fittings, lighting, furniture, etc.
The Tétris project team enjoyed taking up the challenge of this demanding project, where design was always the guiding principle.