1 / 4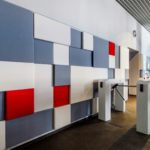 Lipowy Office Park is a Warsaw office building complex, built in 2009. Tétris' analysis shows that on average after five years of using the building, the need to renovate the common parts arises - fashion changes, tenants' needs, new technologies enter.
Pekao SA Bank had an interesting idea - to dress the reception desk in new clothes, without interfering with the original finish of this space. The new arrangement of the lobby was commissioned to Tétris, whose task was to design and remodel the interior in the Design & Build model. Good coordination and speed were essential as the work was carried out on an office facility that was open daily. The renovation took four weeks, including weekends.
The client's choice of design was based on the motif of rectangular, colourful blocks forming a three-dimensional chessboard. It is light, modern and dynamic, thanks to breaking white surfaces with red and graphite elements.