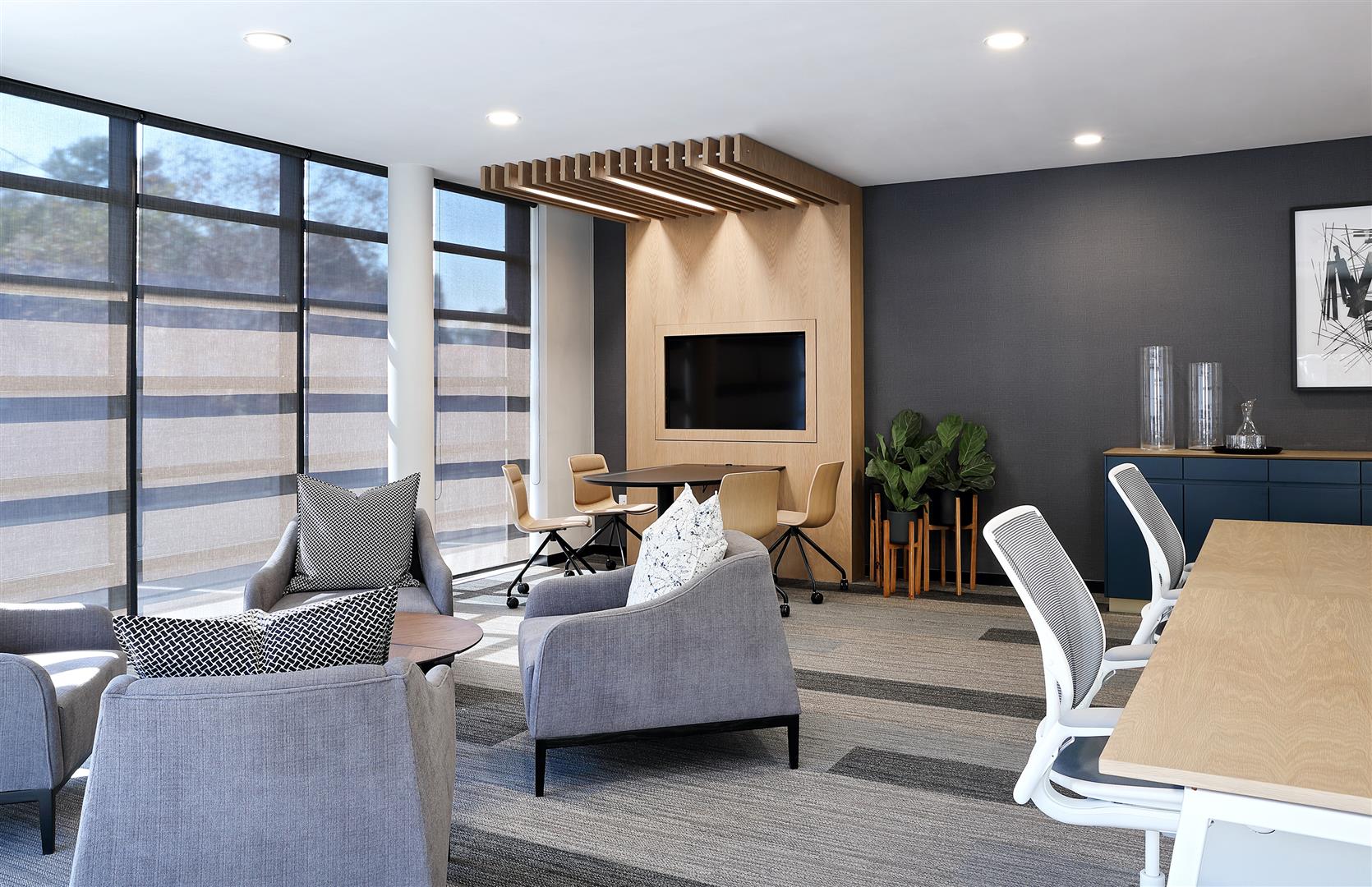 1 / 24
Software and technology group Dynamic Technologies appointed Tétris to design and build an office space to house six of its group companies, giving each company a unique look and feel to align with their specific branding, while maintaining a cohesive group company culture.
The shared reception is bold, punchy and colourful. The reception counter is dynamic in its shape, with a diagonal black timber surround that houses a warm timber front, bringing texture and warmth to the otherwise dark finishes. Read more
Punched lights in the bulkhead above the reception counter compel visitors to look up into the triple volume atrium, which showcases a white metal cube installation, staggered and spiralling up through the voluminous space. A friendly "hello world" neon sign greets visitors and is a hint of the tongue-in-cheek and fun atmosphere found throughout the offices.
The dynamism continues in the shared communal areas, with custom graphics and 3D wall features reminding staff to 'do what you love', 'take a <br/>', and that 'everything is under CTRL', bringing in a light reference to the technology solutions offered by the group.The walls continue to be strong features in a variety of spaces: a painted light beam shining boldly in a corner; bright blue and orange round meeting booths, and a tropical beach scene in a break-away zone. These features subtly convey to staff the functionality of each area – focus, collaborate or retreat.
Each group company was given their own identity through colour, layout and furniture choices. Innovative graphics create visual impact in key areas, while the floors too were designed to pack a punch. The carpeting in the office spaces of each company speak to their specific look and feel. With a clever use of pattern, Tétris was able to achieve vibrancy without having to use expensive, imported finishes. A passage of blue hexagons, oversized blue and grey triangles, and giant herringbone vinyl flooring in the canteen bring much movement and interest to each space.
The common areas were an important part of the brief, with attention given to spaces that allow staff to take a break from work and recharge. Among these is a rooftop terrace created for the purpose of group company events and functions, and to give staff an outdoor space to enjoy the mild Johannesburg weather year-round.
Tétris successfully designed and project managed the entire project, working closely with the developers who were on a tight programme to complete the new building. With many decision-makers involved, Tétris acted as the single point of contact, ensuring that each company was happy with their space, providing on-site liaison for all stakeholders and ensuring the bigger picture of creating a unified look and feel throughout Dynamic Technologies House was achieved.
Client testimonial