1 / 13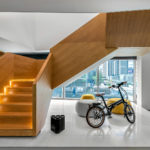 The design and construction of the new offices of JLL on Castellana 79, in the financial heart of the capital, were something of an inside job for Tétris.
The new offices had to meet a variety of needs: multiple collaborative spaces and meeting rooms, a unique space for holding meetings with clients, equipped with the latest new developments in climate control and sustainability.
Another of the key points of the project was the stairway as an essential element linking two floors. The solution designed by Tétris was elegant and sober while at the same time functional, combining wood with more aggressive lighting.
Wood constituted the leading theme of what was a traditional and young concept, set off against more colourful elements that help distinguish different zones. Priority was given to the creation of innovative spaces properly equipped with the latest technology. The aim was to generate synergies and prioritise communication between the different departments.