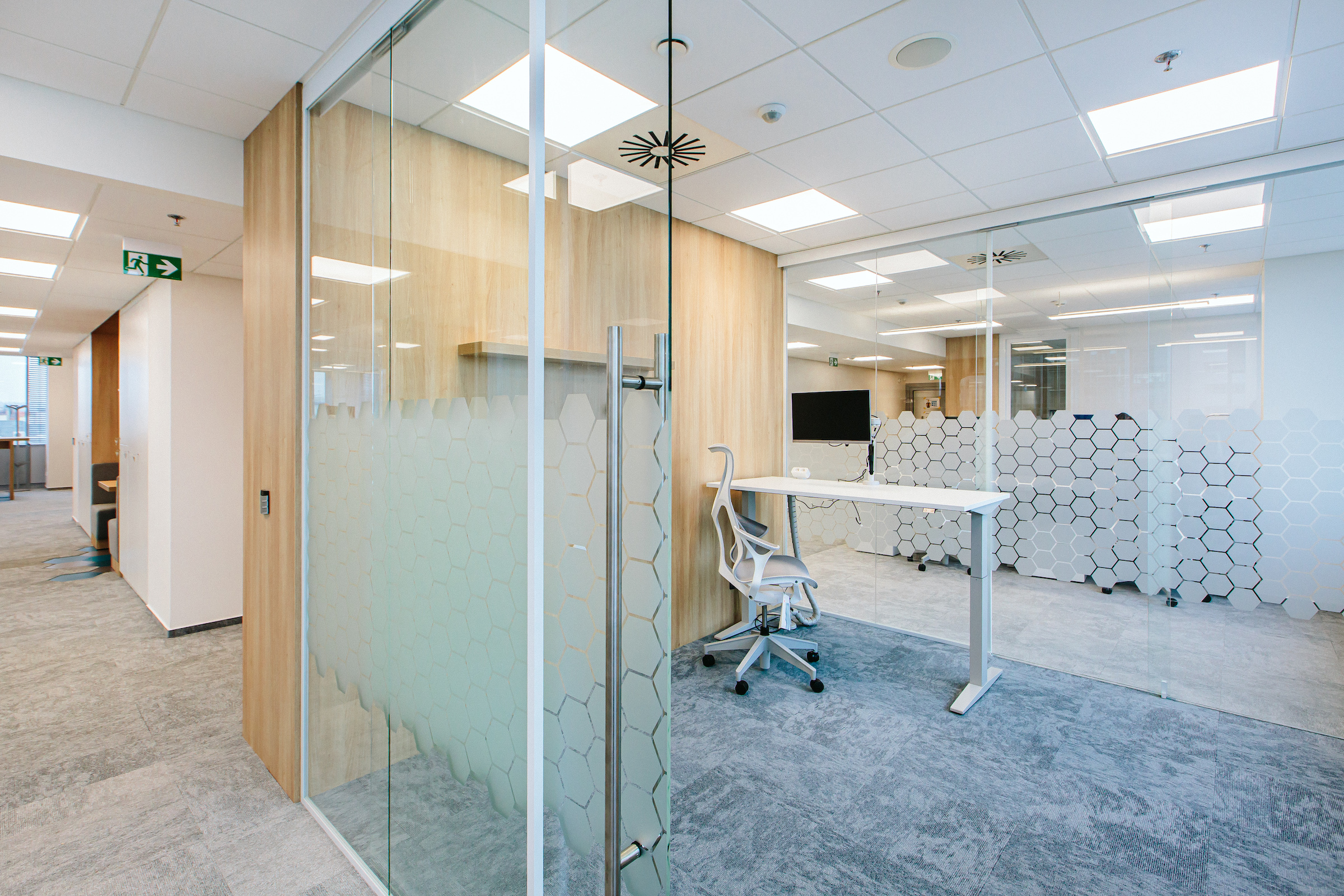 1 / 9
Tétris created an office fit-out for UCB in Prague, Czech Republic. The Design and Build project in the TOKOVO building in Prague 7 included a complete turnkey construction service, design and project documentation, delivery of furniture and moving.
The whole process did not exceed 5 months and the area of the new offices for 12 employees is 250 sqm.
The premises in their original condition needed to be completely modernized and given a whole new character. It was necessary to respond sensitively to the limits of space, building technology and constructions of building, which dates from the 70s of last century. Read more
The layout focused on creating a work environment corresponding to the open space concept with the possibility of partial separation and creating privacy for focused work. There is a lot of glass in the interior, the wooden cladding of the partitions looks warm and despite the relatively small space, we managed to plant a lot of informal zones with different types of seating. There is also a solid meeting room.
The overall layout includes soft benches along with single armchairs in the common area, soft private armchairs - ear loungers, one-on-one coupe seating, a solid table in the meeting room with lightweight chairs, a non-traditional high reception connected to the kitchenette. Distinctive logo opposite the entrance, lots of storage space, cloakroom and copy point. The ceiling in the meeting room is made of wooden slats with integrated lighting, the material is in tune with the wall tiles.
The whole office space is very bright completely opening to three sides of the world. The framed windows of the facade provide a wonderful view of Prague. The offices have a minimum of solid partitions and they are lined with wood. The remaining partitions are made of glass and their non-traditional telescopic construction forms a partially closable working space.
A quality carpet was chosen for the floor in combination with vinyl hexagons, which appear very subtly, as a central motif, across the entire interior - lighting fixtures, flooring, tiling, stickers on glass partitions and legs of coffee tables.
The carefully selected design of quality luminaires complemented the character of the airy and clean space in a semi-enclosed space and in other redesigned areas.
The workstations consist of height-adjustable motor-driven tables with common bases. The individual workplaces are divided by acoustic screens. The work chairs were chosen very carefully with regard to ergonomics and the overall interior design.

The client is very satisfied with the implementation, as we managed to combine the prescribed framework of a standardized interior with the requirements of employees for a high-quality and flexible working environment with a timeless design. Despite the situation associated with the Covid-19 pandemic, our team managed to meet the client's qualitative, time and financial expectations. The aesthetic was surpassed.
Client testimonial