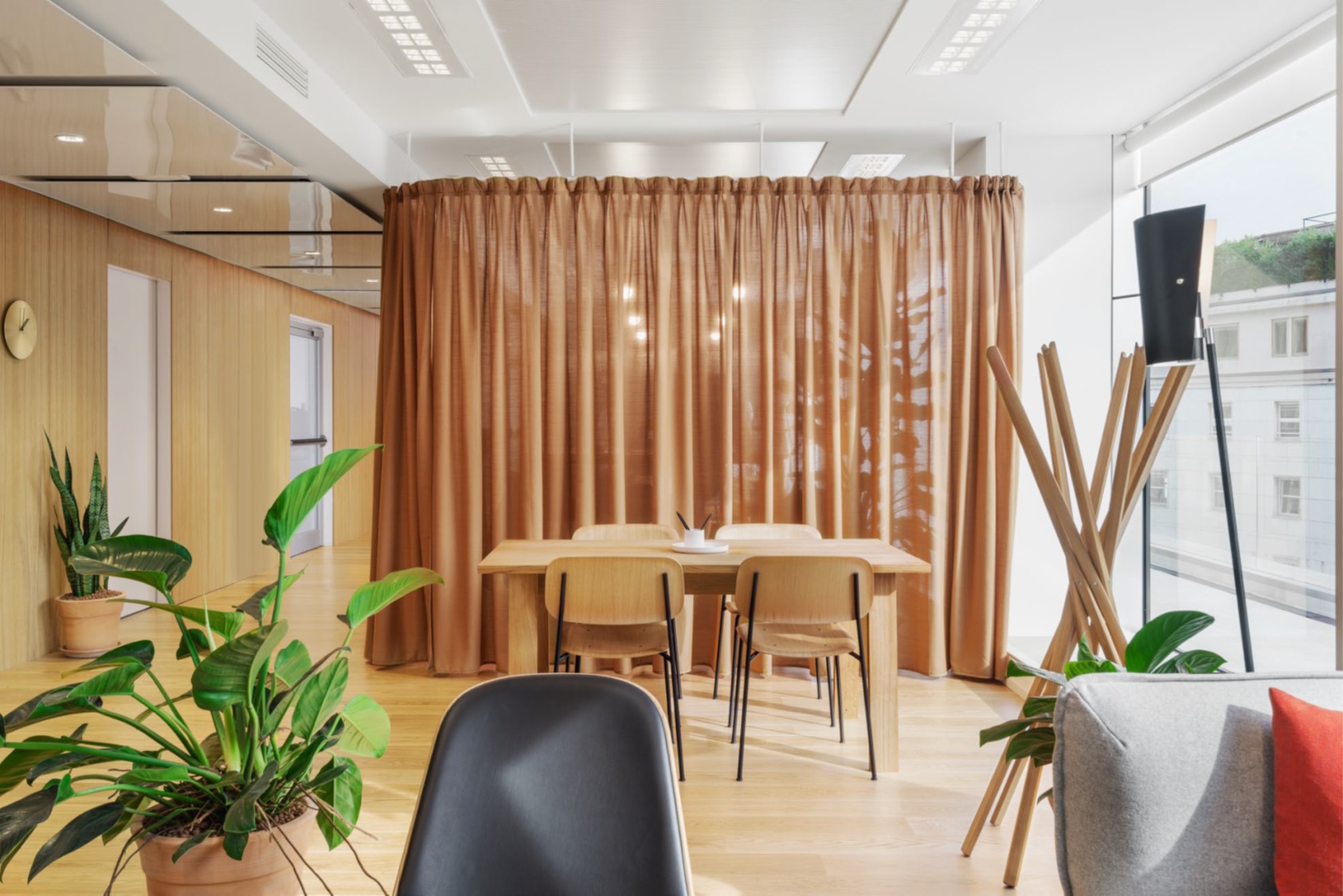 1 / 8
In only 14 weeks, Tétris completed the fit-out works for the interior spaces of the new Spaces in Piazza San Babila in Milan, ensuring the delivery of the spaces on time.
A functional workspace that combines flexibility and hospitality, thanks to the presence of informal environments and a domestic atmosphere through the use of sustainable materials and the choice of warm and sober tones and refined fabrics to enrich the spaces. Read more
The office spaces are on the fifth and sixth floors of two Leed-certified, communicating buildings.
On the seventh floor of the building there is a wide common area of about 450 square meters, the Business Club, a community environment that includes a reception area, a cafeteria (equipped with professional kitchens), a game room, a quiet space, a common library, meeting areas of over 4000 square meters, coworking spaces and over 500 workstations.
The common areas culminate in two large terraces (270 sqm on the seventh floor and 140 sqm on the sixth floor) that overlook Corso Vittorio Emanuele, Piazza San Carlo and San Babila and offer a unique view of the Duomo of Milan. Both terraces have been fully illuminated and furnished with fixed fittings and flexible furniture to allow their use throughout the day, including the evening hours, ensuring new opportunities for outdoor work.
In the design of the spaces, particular attention has been paid to the well-being of the user with the installation of advanced lighting and air conditioning systems that guarantee comfort to users and maximum energy savings.
All the meeting rooms as well as the offices are equipped with a wireless access control system, entirely developed by Tétris, which allows their reservation and accessibility through badges so as to make the spaces smart and flexible.
The materials used were also chosen with special attention to sustainability. In fact, they are all natural, from flooring to custom-made furniture and carpentry, in a perspective of circular economy and waste reduction.
The character of the space is defined by elements and materials of different natures and by a delicate design: light curtains and metal grids conceived as slender shields create a sequence of visual filters that allow to work in a peaceful atmosphere while offering different levels of privacy and different ways of sociality as well as the possibility to reconfigure the spaces according to needs.
_______________
Progettazione e design: Laboratorio Permanente
Photo credits: Delfino Sisto Legnani and Alessandro Saletta
Client testimonial